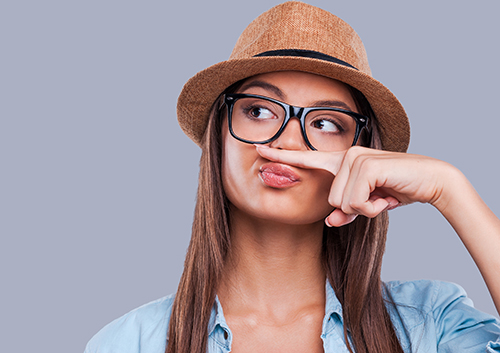 Are you afraid to open your mouth because you have bad breath? You're not alone bad breath or Halitosis happens to everyone, at one time or another. If you have chronic bad breath there could be a number of reasons, including:
Gum disease
Sinus problems
Bacterial infection in your mouth
Stress
Strong odor from something you ate
Dry mouth
The good news is, none of the causes of bad breath are serious, and they can all be treated. There is a long list of DIY home remedies that have proven effective. Before you try any of them you should be evaluated by Dr. Michelle Slezewski and Dr. Paul Engibous to make sure you do not have a serious oral infection. Of course, you should also always practice good oral hygiene. If you go a week without brushing your teeth, your bad breath is going to be horrible!
1. Cinnamon Mouthwash
Cinnamon is known to help prevent bacteria in your mouth, and lemon has strong citrus properties that will eliminate your bad breath problem.
Preparation
Put a half teaspoon of cinnamon in a jar or bottle that has tight fitting lid.
Next add the juice from two lemons freshly squeezed lemons.
Combine all of the ingredients in a cup of lukewarm water and pour into your jar.
Shake the jar well and set it aside for two to three hours.
Before using the mouthwash always shake it well.
Gargle and swish one to two tablespoons of the mouthwash for about a minute
2. Tea
Black and green tea are beneficial in prevent bad breath. Black tea aids in controlling plaque and bacteria that can cause bad breath. Green tea contains antibacterial properties that fight off the natural occurring germs in your mouth, keeping your breath fresh. Both black and green tea contains polyphenol, a property that can prevent the formation of the foul odor caused by bacterial growth.
Preparation
Steep a black of green tea bag in one cup of hot water and drink one to two cups a day to keep your bad breath away.
3. Tea Tree Oil
Tea tree oil contains natural antiseptic and anti-fungal properties that help kill bacteria and fungi in your mouth, caused by particles of food left behind.
Preparation
You will need one teaspoon of tea tree oil, peppermint oil, and lemon oil.
Combine all three in eight ounces of lukewarm water and stir well. Use daily as a mouthwash to get rid of your bad breath.