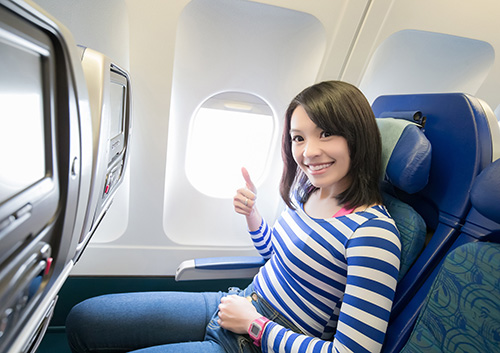 What's in your carry-on bag? You've got your passport, ticket, and currency, but what about dental floss? Of course! You're preparing for the trip of a lifetime, and we want to help make sure everything goes according to plan.
Part of your preparation before a long vacation should be a complete check-up at our Anchorage, AK office well in advance of your trip. If there is dental work to be done, now is the time to do it. No one wants to be stuck over the Atlantic with a toothache, and changes in atmospheric pressure can cause serious problems if you have a severely compromised tooth. Tell us when you are planning on traveling, and we can schedule any procedures that should be finished before you fly.
Now that you have the all clear to travel, what about maintenance once you're on board for a long flight? Some airlines provide toothpaste and brushes for travelers. If you have questions about the quality of the water in the airplane restroom, use bottled water to brush. There are also single-use mini-brushes available for travelers that come loaded with paste and ready to use without any water at all. Crisp fruits and vegetables can help clean teeth on-flight if brushing isn't an option, and drinking plenty of water will not only keep you hydrated, but help cleanse your mouth and teeth as well. Be sure to travel with floss, a travel-sized tube of toothpaste, and a brush in a well-ventilated container in case you face airport delays between flights.
Taking your electric toothbrush with you? Usually there is no problem bringing your electric toothbrush in your carry-on, but do check in advance to make sure this is allowed on your flight. Most electric toothbrushes have region-specific battery chargers, so find out in advance if you will need a voltage converter or plug adaptor if you are visiting another country. Check to make sure the head is in good condition before you go and replace it if necessary.
Once you've landed, try to keep your dental routine as close to normal as possible while you enjoy your visit. Regular brushing and flossing are still necessary, especially if you take the opportunity to explore the local desserts. We've given you some tips to make your flight more comfortable—now that you've reached your dream destination, the rest is up to you!