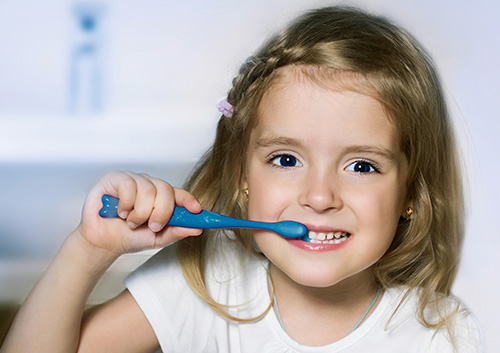 First word, first step, first haircut, first… toothbrush? While it may not be considered a typical milestone, choosing the right first toothbrush is an important first step in your child's future dental health.
The time to start brushing is when your baby's first tooth appears. Until then, you have probably been using a clean, moist washcloth or gauze to carefully wipe your baby's gums. Continue that gentle treatment with a toothbrush designed for infants. Look for a toothbrush designed especially for infants and toddlers, with extra-soft bristles and a small head for tiny mouths.
When your toddler is ready to try brushing for the first time, there are many options to make learning the proper technique enjoyable for both of you! Extra-soft bristles and small brush heads again are important for young children, and brushes are available with colorful patterns and designs to charm any child. There are brushes available with handles designed for easy gripping, right-handed and left-handed options, and even electric models.
No matter which brush you choose, Dr. Michelle Slezewski and Dr. Paul Engibous and our team recommend:
Use soft bristles and a brush head sized to fit your child
Use the proper amount of toothpaste (when your child is old enough to spit out toothpaste instead of swallowing)
Replace the toothbrush every three months, or earlier if it is frayed
Always supervise your young child while he or she learns to brush
Don't forget to schedule checkups every six months at our Anchorage, AK office!
You probably won't be preserving your baby's first toothbrush in your baby book, but teaching your child the proper way to brush with the right toothbrush can lead to a lifetime of dental health. And that's a milestone to celebrate!